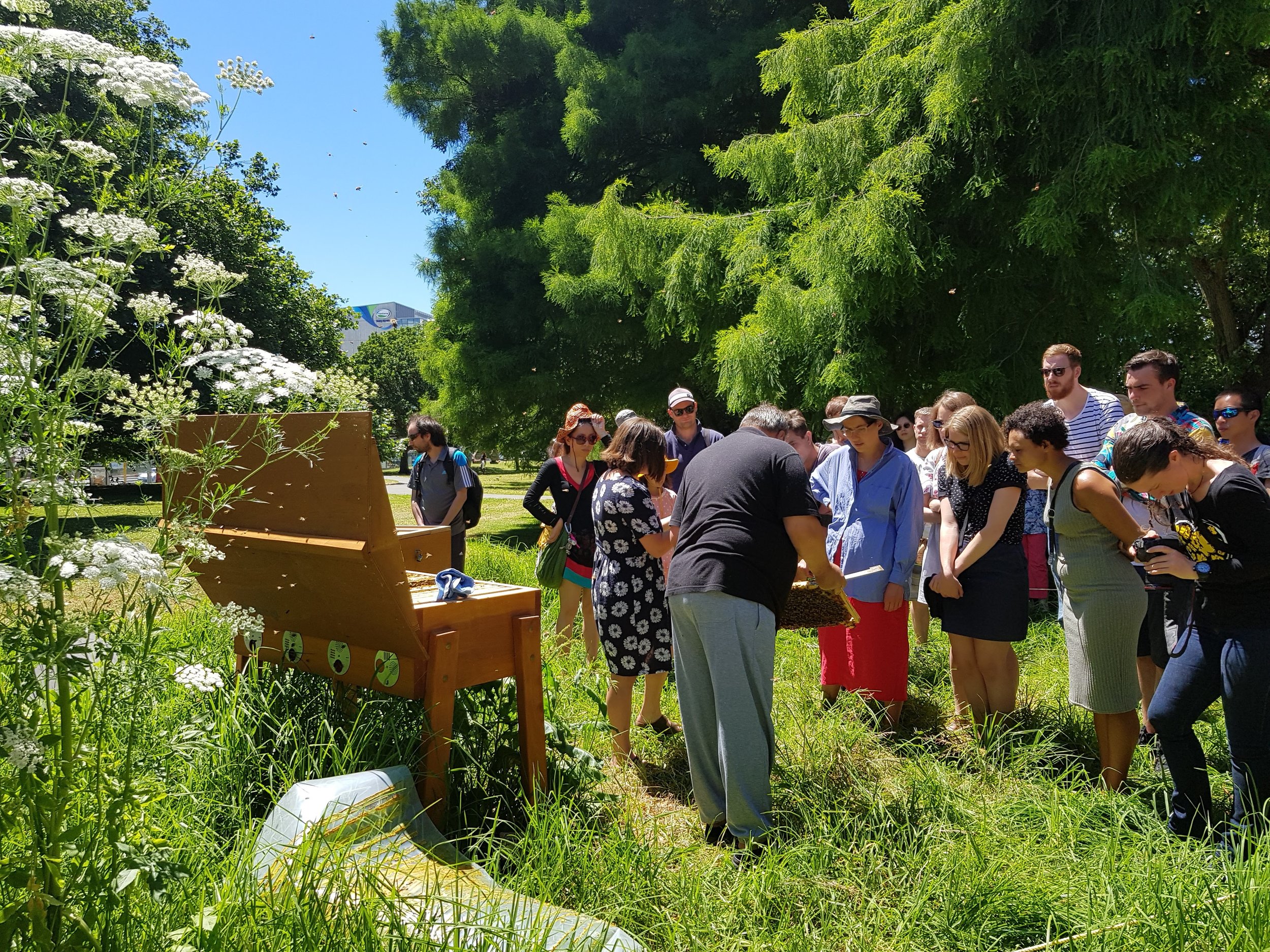 Our free Natural Bee Keeping School was sponsored by Ceracell in 2017 & 2018 - Thanks Ceracell!
We are currently looking for new sponsors for 2019 & 2020.
We meet every first Sunday of the month from 10:00-12:00 in the Campbell Free Kindergarten in Victoria Park and move across to the three hives situated in the park as part of For the Love of Bees. Everyone is welcome to participate and our classes are open to Aucklanders of all ages.
This year, your teachers are Walter Dendl and Ella Rose Shnapp.
The Natural Bee Keeping School was taught in 2017 by Peter Alexander of Beezthingz.
My name is Walter Dendl. I have a fascination for bees and their complex social behaviour. Over the last 100 million years, the evolution of bees has gone hand in hand with the development and the diversity of advanced flowering plants. Without bees our present day flora would look totally different. It is estimated that honey bees are responsible for the pollination of about 1/3 of our food crops, making them one of the smallest creatures to be commercialised by us. Without honey bee pollination we would mostly be eating wind pollinated crops like rice, wheat, corn, missing out on fruit such as apples, pears, peaches, and oranges, There are 20,000 known bee species in the world which are all facing multiple threats, from pesticides and insecticides, from monoculture and overcrowding of hives, to pests and their accompanying diseases. By observing and caring for bees we get an indication of the state of the environment we live in.
I studied beekeeping at MIT (where I've also taught beekeeping) and for five years I've been keeping my own bees as well as establishing bees at other sites in Auckland. The bees still continue to teach and amaze me. When I go into my apiary and open a bee hive I have to be fully engaged as the bees seem to be able to respond to my mood. This only adds to the respect I have for the bees. I enjoy passing on the necessary practical skills and knowledge, as well as the passion I have for these incredible insects, while also learning from other people's stories and experiences.
Ella Rose Shnapp was born in the tiny village of Moniaive in Scotland. Very fittingly, Moniaive translates to 'Many Hives.' Ella set up hives at her university in Glasgow, where she got others involved in beekeeping.
I personally see bees as a really big indicator of our environment, our society and what's happening. I think we can learn a lot from them and practice ways of living that allows them to thrive, because ultimately we depend on them and so we should create an environment in which they can flourish.
My advice for people who want to save the bees is to grow organically and provide flowers, provide food and a safe place for bees. That's what I'm doing in my garden.
I love to grow food and I value it so much, but it's not just about me and what it's giving to me, it's about what I am giving to the environment and what I am giving to other animals. Something as simple as allowing a plant to go to flower rather than chopping it down can completely alter the environment that you provide for other animals
Thanks to Frances O'Connor for these images
Resources
Here is a word doc made by our first guest beekeeper, Ellen Schindler. It includes useful tips around storing empty hive boxes, a list of equipment needed for beekeeping and hygiene pracctise: