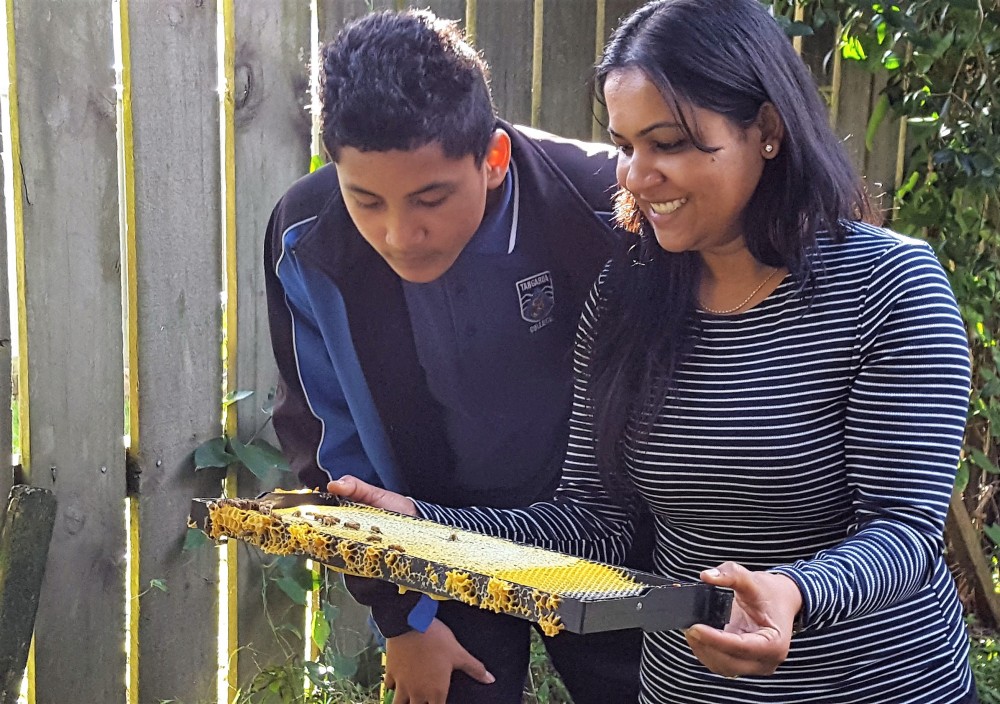 The South Auckland Bee Project
For The Love of Bees has teamed up with SouthSci to bring South Auckland students to the central city. Students from Aorere College, Tangaroa College, Ormiston College and Kauri Flats Primary, use sensors designed by BuzzTech to record and collect data on six beehives located in Victoria Park and Myers Park in Auckland city.
The South Auckland Bee Project involves a group of schools in South Auckland, both secondary and primary, lead by Tangaroa College and supervised by BeezThings, placing sensors in beehives to monitor the health of bees across Auckland. The aim is to identify the sounds and movements of bees that indicate both their good and poor health. Participating students and teachers are trained in the care and management of the beehives through a beekeeping course at Griffin's Gardens, and to communicate the results, the schools hope to co-design a piece of art with the Auckland Council project For The Love of Bees Project.
SouthSci is the South Auckland pilot of the Participatory Science Platform. This Participatory Science Platform is currently being piloted in three areas: South Auckland, Taranaki and Otago. It is an initiative under A Nation of Curious Minds, a Government programme to encourage all New Zealanders to get involved with science and technology.
A Nation of Curious Minds is coordinated by the Ministry of Business, Innovation and Employment, the Ministry of Education, and the Office of the Prime Minister's Chief Science Advisor. For more information, visit www.curiousminds.nz, the SouthSci Twitter or the SouthSci Instagram.
Check out the project's student run blog here!
ARTICLES:
The Re-Script : Students get into the hive of scientific research